Curved Backdrop Stand EasiFrame System| Portable Cyclorama Photography Curve Wall System | Backdrop
The EASIFRAME® Curved is a fabric cyclorama backdrop, that creates a professional shooting space in any environment. Being a portable system it allows you to quickly set up a cyc photography wall in under 20 minutes. This system is particularly good for office or warehouse spaces where you can't drill or build a cyclorama wall in that space. It comes in different colours (sold separately) and is washable. The Easiframe company can also custom print your logo or any type of artwork onto the backdrop as well. (1-week print turnaround). You can order the custom backdrop using the product listing down below and emailing us your art work.
---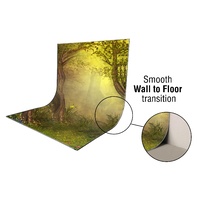 easiframe
Setting up a professional seamless cyclorama backdrop has never been easier with the Easiframe® Curve Cyclorama Backdrop Stand Frame and Background Set. The Easiframe® Curve Cyclorama works by inserting a 'Fabric Skin' with a silicone edge into frame.
In Stock
EasiFrame Changable Fabric Cyclorama Frame System
EasiFrame Changable Fabric Cyclorama Frame System 2.5m wide x 3.8m Height - Frame Only
Product Code: Easiframe-F