Jinbei Photography Lights equipment, Jinbei HD610, Jinbei Lighting, Jinbei Australia, Jinbei Flash
We are Australian resellers of Jinbei Lights and accessories. Local 1 year warranty and support.
---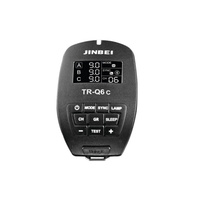 TR-Q6
The Jinbei TR-Q6 TTL HSS Flash Trigger with Bluetooth acts as a wireless master control for a range of Jinbei flash system like the HD-610.
In Stock
Jinbei TR-Q6 Flash Wireless Trigger HSS TTL For Ca
Jinbei TR-Q6 Flash Wireless Trigger HSS TTL For Canon or Nikon